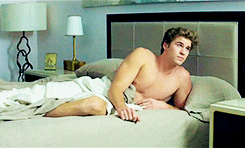 1. Is your character a cat or dog person? Or neither? Why?


"Well technically I'm a cat person. I mean, I had Felix before Serena moved in. How we have George which is the ginger cat, and Pablo which is the yellowish white cat. Then there is Roy our puppy who I got to help after our daughter is born."



2. What do they have a picture of as their phone background?


"Right now it's a picture of me and my wife at our wedding. But I suppose I will change that once our daughter is born. I'm trying to get Serena to indulge me in taking Star Wars pictures, cause she knows how much I love Star Wars."



3. Is there something that they once hated but came to love? What is it?


"I used to hate cooking. I could never cook. If it came in a box with directions and I could throw it in the microwave then I could cook. But Serena's been teaching me and I've taken a little more liking to it. Especially now that I make her food when she isn't feeling good with the morning sickness."



4. What do they do to relax?


"Honestly just about anything. If Serena is around, we usually watch Netflix or we sit outside in our backyard. If she isn't around, then I do have a target range in my basement, but I really only use that when I'm upset or angry."



5. How do they react to someone they care about being hurt or upset?


"I'll kill anyone that dares to harm one of my family. And yes, I mean the entire family. Everyone in the gang ins my family and if you mess with us, expect payback to come back."



6. Are they more of an indoors or outdoors person?


"I'd personally prefer the outdoors, although I haven't actually gone camping yet. Serena keeps promising me to take me out one of these days, but it's getting harder the longer her pregnancy keeps going on."



7. How do they act when they're lacking sleep? Do they find it easy to get sleep?


"I've run on a lot of sleepless nights. Usually I'm pretty absorbed into work that it doesn't affect me too much. I find it is easier to sleep when Serena is lying in my arms, even if it is a little difficult to cuddle her completely with her rounded stomach."



8. Are they close with their family?


"Considering my blood family is all dead, I'm super close to my adoptive family. The entire gang is my family, then Dan and Brandon, and finally all of Serena's friends."



9. Do they like having their photo taken?


"Kind of comes with the territory. I mean, when you are the wealthiest man with millions to your name, you get your picture taken even when you don't know it."



10. What's their go-to comfort food?


"Well personally I love these mashed potatoes that I make with lots of cheese and bacon and just...yum. Serena's been making sushi before she got pregnant but now that she is craving apples, I'm making a lot more fruit salad."



11. If they could only pick three things to have with them on a desert island, what would they be?


"Well considering I wouldn't want Serena to be on a deserted island with me, she wouldn't be one of my choices. Do people count as a thing? Cause if so, I'd probably bring Matt. Then I'd bring a pack of water and a compass. Between the two of us, I'm pretty sure we could figure out how to get off."



12. What's their most used emoji? (Or what would it be, if they don't have a phone?)


"I don't use emojis very often when I text. Actually I don't think I use them with anyone except Serena. BUt if I had to pick one, I'd say it's that kissing face one. Cause I love my redhead."



13. Are they good at being on time for things?


"You'll never see me late for anything."



14. If they had the opportunity to change any one thing about themselves, would they?


"I always tell Serena that it doesn't matter where we came from or what we want to change. Both of us are perfect the way we are. Sure our lives weren't always great, neither of us having great childhoods or things growing up, but I wouldn't change anything because if I did, I might have ever met Rena."



15. If they could only pick one, which would it be: money, power, love?


"Well I have more money that I could have ever wanted, I have enough power in the city and money can basically buy you any power you want. Plus I have all the love I can get from Serena and my soon to be daughter. But if I could only choose one of them to live the rest of my life with, I'd choose love."



FC: Liam Hemsworth